The annual PhUSE conference for 2015 was held at the International Wien Hotel in Vienna. This year, the theme for the conference was 'Clinical Date Science – From Data to Knowledge' and OCS Consulting was represented by Yves Poriau, Yasemin Atil, Jules van der Zalm, Koen van Vugt, Ilias Pyrnokokis, Luigi De Vittorio, John van Bemmelen and Ruurd Bennink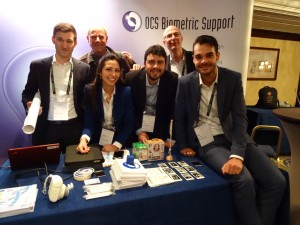 Once again, the conference was a fantastic networking opportunity, with both clients and candidates gathering from across the globe in order to share their knowledge and ideas. It was also nice to see so many familiar faces and catch up with people we have met in previous years. For OCS Consulting, the conference provided a chance to showcase our company and services by not only increasing awareness of our capabilities, but also by enabling us to build stronger industry relationships with so many inspiring groups and individuals.  The infamous evening event in particular gave us at OCS the opportunity to network with colleagues from over all the world and the event was great fun for everyone involved.
At the conference OCS attended several informative and interesting presentations on SAS, R, CDISC, and Management and Regulatory Affairs. The presentations offered us a fascinating insight into the industry and the current trends and developments that are captivating people's and business' attention right now. This provided us with a deeper understanding of how data is driving the industry and what benefits and impacts this is having on the industry.
During the Sunday welcome event and poster session, Ilias Pyrnokokis presented his poster, entitled 'Developing Annotated CRF: SAS, Excel and Patience as Your Friend.'  His poster gathered a lot of attention and it was great to see so many colleagues showing an interest in the topic, with many people coming over to talk and ask questions to Illias about his poster.
Luigi De Vittorio, Ruurd Bennink and John van Bemmelen also all had the opportunity to give presentations on their papers during the conference. All the presentations were well attended and we were delighted when John van Bemmelen won the prize for 'Best Paper' in his conference steam. Please find the titles of their presentations below:
The Data Listing Facility: Data Is Just A Few Clicks Away, by Luigi De Vittorio
ODS Document: A Practical Example, by Ruurd Bennink
Detecting Irregularities in Electronic Patient Reported Data, by John van Bemmelen
Overall, the annual PhUSE conference was a huge success and we would recommend the event to anyone considering attending next year. While it is a great opportunity to work and network, the event is made even more enjoyable due to the enthusiasm of the attendees in building new relationships and learning more about the industry. It gives the perfect opportunity for professionals to share their passion, ideas and work, as well as a chance to enjoy and explore the great city where the event is held.
We are looking forward to attending the event next year, with the 2016 event being held in Barcelona!