Public training course: ODS Statistical Graphics – SAS
3 February 2016, Nutricia Research offices, Utrecht, the Netherlands
On 3 February 2016, OCS Consulting and Nutricia Research organised a 1 day practical training course on SAS ODS Graphics. We had enlisted the support of Holland Numerics Ltd. to deliver this training course which was intended for participants who wish to start to work with ODS Statistical Graphics in their organisation. The training was suited for statistical programmers and statisticians and it addressed converting plots and annotations to ODS Graphics.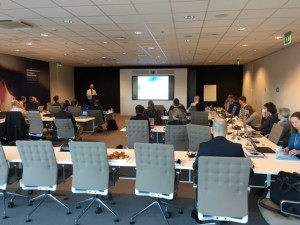 The training was a great success! We have received a lot of positive feedback and all participants would be happy to recommend this training to others. It was a day full of practical information and we hope that all participants will get the opportunity to bring the things they have learned into practice.
If you wish to be notified of future training events please send a message to: SASquestions@ocs-consulting.com